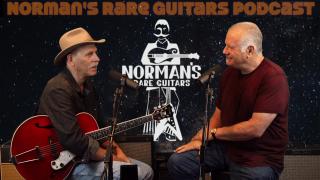 Episode 16 | Bruce Forman
On this episode of Norman's Rare Guitars, The Podcast, Norm joins long time friend and jazz guitar great, Bruce Forman.
Bruce has played with many great artists including Ray Brown, Bobby Hutcherson, Roger Kellaway, as well as soundtrack performances on three of Clint Eastwood's distinguished films—most notably Academy Award-winning Million Dollar Baby.
Deep immersion in American culture inspires Forman to contribute to the traditions that he drew from. Formanism (his trio project); original works like The Red Guitar; his popular podcast with Scott Henderson, GuitarWank; Cow Bop and the "road challenges" down historic byways like Route 66; JazzMasters Workshop; his newest project: Junkyard Duo…these are only the latest answers to the endless question that underlies Bruce Forman's creativity.
Bruce Forman's life and musical journey provide an American saga that is still in full swing. His Texas origins, his early career in San Francisco and New York, and his years on the road, all contribute to the unique and highly personal vision that he demonstrates today. Plus, he and Norm go back decades and their shared stories are proof of their collective history.