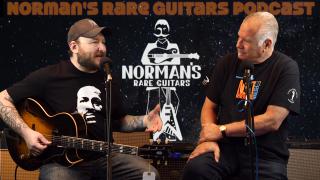 Episode 15 | Josh Smith
Josh Smith is simply one of the best guitar players in the world today. Steeped in Blues tradition backed up with a solid vocabulary drawn from Jazz, R&B, Soul and Country, Josh's playing is subtle yet explosive, tasteful, soulful and always completely original. You just gotta go and see Josh play live, he will blow you away.....!!
Joe Bonamassa says there's only one guitar player that "scares the hell out of him" and that player is Josh Smith. Norm talks with Josh about what life on the road is like and his history of playing from the young age of 6 years old. They discuss all of the artists that inspired Josh growing up and gigging around Florida, Norm's old stomping grounds. As a little kid Josh would attract a crowd because of how talented he was at such a young age and this led to him being made a frontman for many bands. Josh creates a lot of instructional guitar content and discusses how young players learn at lightning speed from watching everything on the internet. This and much more on today's episode of Norman's Rare Guitars, The Podcast.