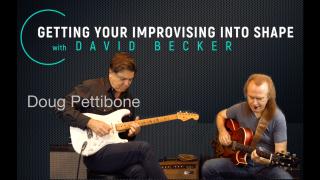 Doug Pettibone: Guitar player with John Mayer/Lucinda Williams/Jewel/Tracy Chapman/Lisa-Marie Presley and many others
Doug Pettibone started to play the guitar at the age of eight. His first teacher was Andy Summers, formerly of The Police. With nine years, Doug studied with Eddie Lafreniere, guitarist for big band leader Jimmy Dorsey, with whom he spent the next five years studying the music of Dave Brubeck and Duke Ellington. Later he received a scholarship to Pepperdine University-Malibu for Jazz Guitar, Classical Guitar and Voice, graduating with a triple major in 1984. In the following years he played with many different artists of various genres.
In 1999, Doug started a world tour with Jewel that lasted for a year and a half. In 2001, he played pedal steel, mandolin and background vocals for Tracy Chapman's North American tour. Shortly after that, Lucinda Williams hired Pettibone as her multi-instrumentalist, singer and music director to tour, record, and co-produce. Doug´s intensive collaboration with Lucinda lasted for eight years, and continued at a later stage again. In the following years, Pettibone realized several projects with other artists. In 2004 Doug participated in the Legends Rock TV show produced in the South of France, featuring guest artists such as Sam Moore, Billy Preston and Tony Joe White. Ray LaMontagne is amongst the artist Doug went on tour with, in 2009 it was Marianne Faithfull who called him up to go on tour. After that Marianne Faithfull and Doug Pettibone started to write together new songs for a new album.
In the last few years, Pettibone has played live and/or recorded with some of the most influential artists of our times, among them Keith Richards, Norah Jones, Steve Earle, Elvis Costello, Joan Baez, Mark Knopfler, Draco Rosa, Sting, Michelle Shocked, Vic Chesnutt, Kevin Montgomery, amongst others. In 2012 he went on tour with Lisa Marie Presley, daughter of Elvis Presley. In 2013 Pettibone toured with Lucinda Williams with just the two of them on stage.
He joined John Mayer's touring band as lap steel and guitar player for the Born and Raised 2013 World Tour.
2016 Doug is on World Tour with the Italian Zucchero - accompanied by Brian Auger on Hammond Organo.