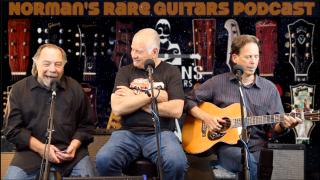 Episode 12 | Tom Ball & Kenny Sultan
Long time friends of Norm's, Kenny Sultan and Tom Ball stop by to play some music and chat about good times, both old and new. Tom Ball & Kenny Sultan have been bringing their unique blend of guitar and harmonica blues, rags and good time music to widely diverse audiences for 40 years. Sometimes Kenny and Tom are a packaged deal, and sometimes they fight for billing... or at least Norm thinks they should.
Together and separately they have worked on countless film scores, TV soundtracks, commercials and sessions. They've appeared on television internationally, were featured on the "Levi's 501 Blues" commercials, have played for audiences of 300 million via Voice of America and are frequent guests of National Public Radio. In addition to working with Kenny, Tom has over 260 CD credits... and Kenny was recently honored by Martin Guitars with his own Signature Model 00018KS.
Join Norm on this epic tale of global music success from two all-time greats.