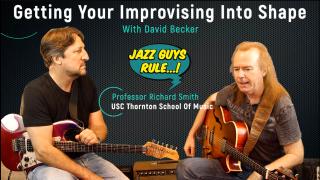 Special Guest: Professor Richard Smith, from the University Of Southern California
Jazz guys do indeed RULE.....!! David's guest this week is the amazing Professor Richard Smith, from the University Of Southern California, Thornton School Of Music, Contemporary Music Dept. Richard Smith's thirteen solo recordings have established him as a veteran of the contemporary music world – with critical success on every one of his releases. His albums have garnished praise such as "Best Contemporary Jazz Guitar Album" (Tune Up Magazine), a nomination for "Record of the Year" (Ad Lib Magazine), and "Best New Artist" (Radio & Records Magazine). His album 'SOuLIDIFIED' spent 17 weeks in the top 10 for radio airplay of American contemporary jazz radio (Radio and Records Magazine) and 3 weeks at number 1 in the World for satellite and cable airplay (Music Choice).
His most recent recording, "One World, Two Guitars" is an exciting duo project with Italian guitar virtuoso Francesco Buzzurro – the duo tours regularly in America and Europe. His 2010 release 'L.A. CHILLHARMONIC' features Alex Acuna, Brian Bromberg, Vinnie Colaiuta, Jeff Lorber, Eric Marienthal, Michael Paulo, Greg Adams, and the Tower of Power horn section. The touring ensemble won a nomination for Best International Group of the year from the Canadian Smooth Jazz Awards. In 2012 his touring and teaching took him to England, Norway, Denmark, Sweden, Holland, Italy, Australia and Tahiti.
Professor Smith's students are working professionally from Broadway and the Los Angeles Philharmonic, to recording and touring with such luminaries as Marc Anthony, Snoop Dog, Beck, Josh Groban, Michael Buble, Elton John, Clay Aiken, Christina Aguilera, Miley Cyrus, Madonna. Michael Bolton, Bono, Maroon 5, Jenifer Lopez, John Mayer and current hit television programs American Idol and Glee.
In EUROPE Richard has performed master classes at the Institute of Contemporary Music Performance, London, The Academy of Contemporary Music, Guildford, The Leeds College of Music, The London College of Contemporary Music, the Academy of Popular Culture, Leeuwarden, Holland, The Rotterdam Conservatorium, The Utrecht Conservatorium, The Royal Academy of Music, Denmark, Music Academy 2000, Bologna, The Universtate d'Rome, Ionian University, Greece, The ESC Guitar Seminar, Siracusa and many more. In 2012 he spent a semester as visiting professor at Agder University, Norway. He is co-director of ACI – The Aegean Cultural Initiative, headquartered in Paros, Greece, and has on-going relationships with schools in Australia, Malaysia, Norway, England, Italy and Argentina.