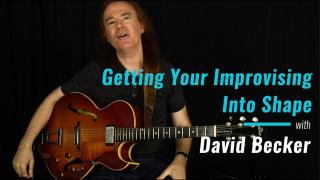 At Home with David Becker: Chord Symbols and Voice Leading AGN
The great David Becker is keeping busy and sharing more Jazz guitar secrets from the Becker Bunker home studio.
From David, "Interpreting Chord Symbols is often difficult. The symbols are Not just limited to the individual notes of that make up that particular chord, but rather the meaning or function of that symbol within the music. Much like seeing an international sign without words that everyone understands regardless of the language they speak.
When seeing a Cmaj7 or G13 symbol on a chart, the question is often, what voicing do you play? In this video I will break down a way to see a common cadence (II - VI - II - V - I) in C major and how to interpret the chord symbols with grips or shapes that are interchangeable and how they work as a family of movement. I will also show how to best develop voice leading. This is more effective than thinking of individual chords. These shapes and grips are also useful for many other types of progressions."