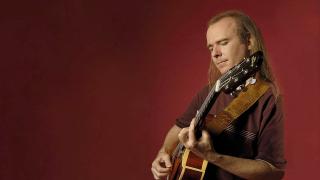 David Becker Jazz Guitar Techniques - Trailer
Grammy-nominated Jazz guitarist and master educator, David Becker is back with a great 8 chapter masterclass on everything you need to know about Jazz Blues.
Here's David's breakdown of each chapter.
Episode 2: With the aide of a simple Blues melody written by Vibraphonist Milt Jackson, I will break down a 3 cord Blues using extensions such as (9th, 13th) and also how to voice dominant chords that have the melody note on top.
Episode 3: In this chapter I will show how to expand the 3 Chord progression and introduce a II V I turnaround.
Episode 4: In this chapter, I will show how to alter some of the dominant 7th chords using flat 9th or sharp 9th as well as a raised 5th. This will also introduce the minor 7th chord to the progression.
Episode 5: In this chapter, I will discuss using the shapes directly out of the chord to solo. This includes major, minor and diminished triads.
Episodes 6 & 7: In these chapters, there is more on soloing using the shapes, triads.
Episode 8: Here are some more advanced methods to consider for soloing over a Blues. This includes chromatic and intervalic ideas.
Click the link or head to the My AGN Store to purchase this great series.