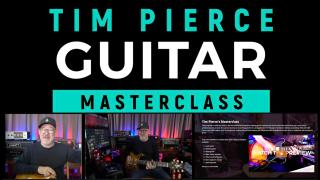 Subscribe to the Tim Pierce's Masterclass NOW
This program is unlike any other in the world because it combines ongoing guitar training with all the inside information that only a real world professional can provide. Tim Pierce has been a recording guitarist in Los Angeles for over 30 years. His list of credits is astonishing. With over 100 hours, over 1000 videos, you'll hit the ground running. Tim adds new lessons, jam tracks and tabs throughout the year, so your collection will continue to grow. Click the info link and subscribe NOW...
Tim's recording discography includes Crowded House, Christina Aguilera, Seal, Avril Lavigne, Tracy Chapman, Joe Cocker, Ricky Martin, Meat Loaf, Rod Stewart, Elton John, Michael Jackson, Bruce Springsteen, Rob Thomas, Rick Springfield, Phil Collins, Madonna, Toy Matinee, Don Henley, Santana, Rascal Flatts, Chris Isaak, Jewel, Faith Hill, Celine Dion, Dave Matthews Band, John Legend, Gavin Degraw, Mika, Carolina Liar, Goo Goo Dolls, Uncle Kracker, Josh Groban, Mylie Cyrus, Demi Lovato, David Cook, Adam Lambert, Daniel Powter, Chris Allen, Jack's Mannequin,The Band Perry,Shinedown, Jason Mraz, Kelly Clarkson,Il Volo,Lana Del Ray, Gloriana, Colbie Caillat, and many others.
He works with producers such as: Rob Cavallo (Green Day, Goo Goo Dolls), Warren Huart (Augustana, The Fray), Matt Serletic (Santana, Rob Thomas), Eric Ross (Sara Bareilles), John Fields (Switchfoot, Jonas Brothers), Walter A (Mariah Carey, Marc Anthony, Josh Groban, Celine Dion, Christina Aguilera, Ricky Martin), Bill Bottrell (Sheryl Crow, ELO, Michael Jackson, Tom Petty), Tim James (Mylie Cyrus, Demi Lovato, Sick Puppies), Ron Nevison (The Who, The Rolling Stones, Meat Loaf, Bad Company, Led Zeppelin, Ozzy Osbourne), Michael Lloyd, Howard Benson (Gavin DeGraw, Daughtry, Chris Cornell), Patrick Leonard (Roger Waters, Bryan Ferry, Elton John, Anna Vissi, Rod Stewart, Madonna), Keith Olsen (Fleetwood Mac), Trevor Horn (Seal, Yes, Art of Noise), Dan Huff (Rascal Flatts, Keith Urban, Faith Hill), Randy Jackson (American Idol and others).