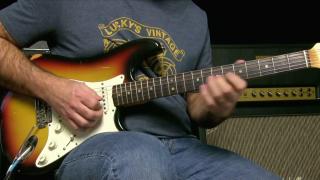 Blues Guitar Soloing Lesson - Sliding Through The Pentatonic Scale On The Ring Finger
"It's fairly common using the "boxes" of the pentatonic or blues scale to get stuck in one pattern (which is often box 1 or maybe 2)...
But if you can get used to starting with your ring finger, there's a cool little slip and slide move that will take you through over 2 octaves of pentatonic scale real estate pretty darn quickly!
Aside from being a good way to play some cool blues/rock sounds because of the increase in speed, this is just another great way to visualize your fretboard that you may not be that familiar with.
So have fun, and try it out..." Griff.