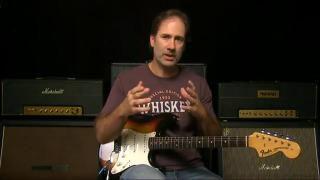 Griff Hamlin's, Blues Guitar Unleashed_Best Online Blues Instructional Series
If you're a budding Blues player or a seasoned professional, Griff Hamlin's Blues Guitar Unleashed is a MUST HAVE.....check out Griff's latestYoutube Blues tip and subscribe to Blues Guitar Unleashed now.....
Griff Hamlin, "There are a lot of different tunes that, while "bluesy," aren't really blues songs (they aren't a 12 bar blues.)
This particular progression, which is used in songs like, "Blue On Black," "Sweet Home Alabama," and a lot of other classic rock and "blues" tunes, lends itself really well to experimenting with both the major and minor blues and pentatonic scales.
So, in this video, I'll show you the progression, how I put it in the looper, and how I go back and forth between those major and minor pentatonic scales to hear how they work and how they create contrast when used together."