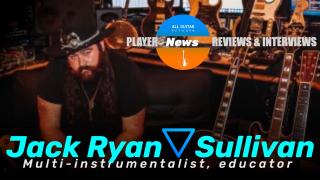 Exclusive Interview with Jack Ryan Sullivan
Jack Ryan was born in Clemson, South Carolina and was the guitar and mandolin protege of Jimmy Rogers, who was known as the fastest guitar player in the southeast.
While Jack's background is a mix between Jazz and Bluegrass, he is also well versed in Blues, Country, Rock and Roll, Metal, Classical, and Pop music and he's also an amazing five-string and plectrum banjo player
In 2013, Jack moved to Nashville, Tennessee, where he became the house guitar player for many of Nashville's world-famous honky tonks including Tootsie's, Rippy's, Honky Tonk Central, Second Fiddle, The Stage, The Valentine, and during this time, Jack became known as having the "Fastest Fingers on Broadway" .While in Nashville, Jack played on stage and toured with Steven Tyler, Kid Rock, Vince Gill, Montgomery Gentry, Dierks Bentley, The Swon Brothers, Hank Williams III, Rhonda Vincent, and Larry Gatlin of The Gatlin Brothers. Jack Ryan's band was the featured band for Jason Aldean and Luke Bryan's private CMA Party in 2016.
These days, through his amazing business, Jack Ryan Music Jack plays and teaches acoustic guitar, electric guitar, mandolin, violin/fiddle, viola, cello, upright bass, electric bass, five-string banjo, plectrum, banjo, tenor banjo, ukulele, dobro, lap steel guitar, accordion, piano, and drums.
Jack is also producing several new and upcoming national and local artists that he feels has a shot at making in the music industry.
Jack was able to keep the studio afloat with ALL of his teachers still employed during the worst part of the COVID19 Pandemic, and has managed to grow his studio, teachers, and student roster by 50% since June of 2020 and he prides himself in 'always finding a way' and giving back to the community as much as he can.