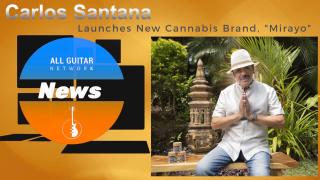 Oct 6th, 2020: Carlos Santana Launches New Cannabis Brand Mirayo, inspired by Latin heritage.
Oct 6th, 2020: Carlos Santana, the ten-time GRAMMY Award-winning guitarist and longtime cannabis advocate, announced today the launch of Mirayo by Santana™, a line of premium cannabis products created in partnership with Left Coast Ventures. Santana is one of the most recognized and celebrated musicians of our time, known for his timeless signature sound. His life as a musical icon and spiritual flame-keeper is built on determination, discovery, and self-actualization. Mirayo incorporates his philosophies into a product that is naturally sungrown and promotes the spiritual effects of cannabis. The name is a combination of "my" and "ray" in Spanish, which honors Santana's heritage and hopes to empower everyone to "follow your light."
"In my experience, cannabis has special properties that enhance meditative reflection and creative expression. It can dispel negative doubt to reveal the everlasting gift of our uniqueness," said Carlos Santana. "With Mirayo, I hope to help people use cannabis as a door to a more benevolent behavior like kindness and compassion." Click the info button for more.