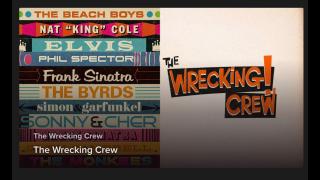 The Wrecking Crew: watch trailer
Rent or buy The Wrecking Crew right here on All Guitar Network now.......and to check out Fab's exclusive interview with the director, Denny Tedesco, head over to Fab's Music Café in On Demand, it's free for all registered users. If you are not yet registered, register now, it's completely free and unlocks more exclusive free content.
Music lovers will be astonished at the influence The Wrecking Crew wielded over rock and pop music in the 1960s and early 1970s. These unsung instrumentalists were the de-facto backing band on hit records by The Beach Boys, Phil Spector, Frank Sinatra, Nancy Sinatra, Sonny & Cher, Elvis, The Monkees and many more. These dedicated musicians brought the flair and musicianship that made the American "West Coast Sound" a dominant cultural force around the world. Starring: Brian Wilson, Cher, Dick Clark, Glen Campbell, Lou Adler, Nancy Sinatra.
directed by: Denny Tedesco. documentary: PG. 2015.