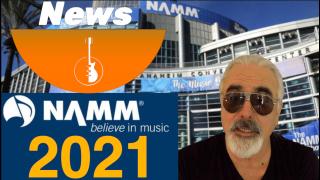 AGN News: Get Ya EarPlugs Out...NAMM 2021 gets the green light...!
If you were wondering whether winter NAMM 2021 will go ahead, well at this stage, the organizers are saying, YES, ...!! So, got the mask? CHECK...! got the ear plugs? CHECK...I can't imagine how you could even begin to practice social distancing at NAMM but I guess there'll be a lot less people there if things remain the way they are now. Just imagine a NAMM where you can hear, park the car, get a coffee and go to the bathroom....!? Also, beginning Tuesday, July 7 and running through Friday, July 10, NAMM will present The 2020 NAMM U Virtual Summit: four days of career and business-enhancing webinars and strategies designed to help businesses take advantage of new opportunities and supercharge their future. Presented by NAMM U, TEC Tracks, and Advanced Audio + Applications Exchange, the free, online Summit will offer a suite of sessions across three unique tracks... Business, Audio and Technology. The sessions will cover topics ranging from online marketing strategies to the future of music technology, presented by experts in each area. Session presenters include Doug Stephens (best-selling author & founder of "Retail Prophet", (customer experience expert) Scott McKain;(sound engineer) Mark Frink, Mr. Bonzai, Mindi Abair, Leland Sklar, Russ Kunkel, and many others. The NAMM U Virtual Summit will offer a dozen Zoom super-sessions that hone in on the most vital topics going forward, along with some fascinating sessions that highlight the changing industry."
The Summit will feature one webinar per day, per track, for a total of 12 sessions. The Summit is free and open to all industry professionals but A NAMM.org account is required to register; click the INFO button to visit NAMM.org.