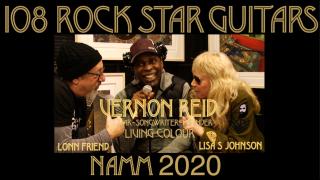 108 ROCK STAR GUITARS AT NAMM 2020: Vernon Reid, 'Living Colour'
Vernon Reid is best known as being the founder, guitar player and primary songwriter of the rock band Living Colour, Reid was named No. 66 on Rolling Stone magazine's 2003 list of the 100 Greatest Guitarists of All Time.
Critic Steve Huey writes, "Reid's rampant eclecticism encompasses everything from heavy metal and punk to funk, R&B and avant-garde jazz, and his anarchic, lightning-fast solos have become something of a hallmark as well."