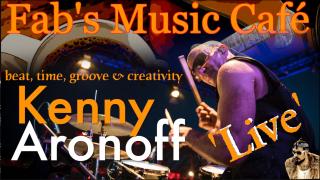 Fab's Music Café 'Live': Kenny Aronoff; Beat, Time, Groove & Creativity
Kenny Aronoff is one of the world's most influential and in demand session and live drummers and in this exclusive Fab's Music Café 'live' masterclass Kenny talks about and demonstrates some of his most iconic techniques, styles, grooves and much more. Rolling Stone Magazine, in fact, cited him as one of the "100 Greatest Drummers of All Time" and Modern Drummer named him #1 Pop/Rock Drummer and #1 Studio Drummer for five consecutive years. The list of artists he's worked with on the road and/or in the studio reads like a who's who of the music industry, and includes:
John Mellencamp, The Rolling Stones, Bruce Springsteen, Paul McCartney, Ringo Starr, Sting, The Smashing Pumpkins, Billy Gibbons, Lady Gaga, Bruno Mars, Bob Seger, Bob Dylan, John Fogerty, Jon Bon Jovi, Elton John, Rod Stewart, Eric Clapton, Willie Nelson, Waylon Jennings, Johnny Cash, Kris Kristofferson, Jerry Lee Lewis, Ray Charles, B.B. King, Joe Cocker, Steven Tyler, Dave Grohl, Chris Cornell, Garth Brooks, Don Henley, Melissa Etheridge, Keith Urban, Lynyrd Skynyrd, Stevie Wonder, Alicia Keys, John Legend, Beyonce, Mick Jagger, Slash, Bonnie Raitt, Ricky Martin, Santana, Crosby Stills and Nash, Celine Dion, Lenny Kravitz, Vince Gill, The Buddy Rich Big Band, Leonard Berstein, Aaron Copeland and many others.
With a style of playing that combines power and finesse, his unique and versatile sound has been instrumental on over 60 Grammy-nominated or awarded recordings representing over 300 million in sales, with more than 1300 that were RIAA certified Gold, Platinum or Diamond.
Kenny's winning approach to drumming and to life has given him the ability to sustain a successful career for four decades.
In addition to performing and creating amazing music, Kenny is an inspirational speaker.
He talks about Living Your Life by Your Purpose, Teamwork Skills, Innovation, Creativity, Hard Work, Self Discipline, Perseverance, and staying Relevant in your career and life. Striving to always be better have been the tools that have kept Kenny at the top of his game for four decades.
Author is the most recent addition to his long line of credits. Sex, Drums, Rock 'n' Roll! The Hardest Hitting Man in Show Business (Backbeat Books, November 15, 2016). This is not about sex; it is about the same passion that drives us all to be the best we can be doing what we love with those with whom we want to share our talents.