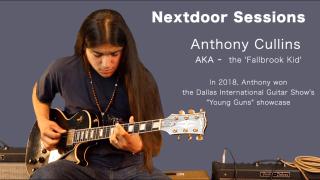 Anthony Cullins - Noodlin' on a 1970 Les Paul
Anthony Cullins aka "The Fallbrook Kid," is a great young player whose guitar playing ability is years beyond his age. Anthony's musical influences include R&B, funk, rock and blues, prominently displayed in his eclectic improvisational style, ranging from Jimi Hendrix and Eric Clapton to George Benson and Wah Wah Watson with dozens of influences in between.
He's had the opportunity to share the stage and jam with a wide array of notable musicians including Rock & Roll Hall of Famer Greg Douglass (former guitarist with the Steve Miller Band), blues harmonica great, James Harman, guitarist Laura Chavez, (voted by Guitar Player Magazine as one of the top 50 women guitarists in the world), former Ike Turner bassist, Kevin Cooper and first call session guitarists, Gino Matteo and Stevie Salas to name a few.
His guitar prowess speaks for itself no matter who is joining him on stage as duly noted by Boogie Magazine: "Anthony has guitar skills reminiscent of young guitarists Joe Bonamassa and Jonny Lang." This comparison came to fruition in May, 2018, when he took first place at the Dallas International Guitar Show's "Young Guns" showcase, featuring a host of 20 year olds and under guitar slingers from around the world.