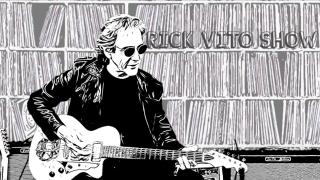 Rick Vito Show: Episode I: Air Guitar to Blues Guitar: Pt. I
Nashville-based Rick Vito is known for his work with Fleetwood Mac, taking over lead guitar after Lindsey Buckingham quit the band. He also worked closely with Stevie Nicks and Mick Fleetwood from the late eighties to the present day. Over his vast and varied career Rick also worked with many other famous musicians including Bob Seger, Bonnie Raitt, Dolly Parton, John Mayall, Jackson Browne, John Fogerty, Roger McGuinn, Little Richard and many more! Rick Vito now has his own exclusive show on All Guitar Network and is the latest edition to our team of 'Lesson' experts.
In this episode Rick closely examines an open 'A' tuning employed to great effect by the late, great John Lee Hooker From 'Air' guitar to 'Blues' guitar, Rick will have you sounding like an authentic Blues man quicker than you think....!