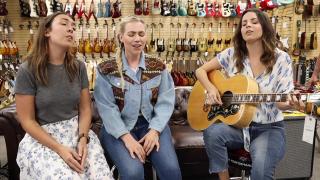 Meanwhile Back at Norm's_Jems.
"Sun-soaked singer-songwriter vibes with just a bit of boho" - LA Magazine
"You can't look away in the best way possible… It's the only thing that matters in the world right now" -Liz Wood, KUCI
"The debut album from JEMS seem a gift from the heavens for the greedy. After all, why settle for just one angel singing when you can be serenaded by three?" - Buzzbands LA
"Alt-folk trio JEMS are superstars" - Jason Scott, B-Sides & Badlands
Following their success as solo artists, Emily Colombier, Jessica Rotter, and Sarah Margaret Huff joined forces to create the transcendent Alternative Folk trio, JEMS. Emily and Jessica grew up in Los Angeles singing together, both children of professional musicians. Sarah Margaret was introduced to Jessica and Emily shortly after moving to LA from Nashville in 2015. Through collaborations on their own projects, they discovered how beautifully their voices blended and decided to share their music with the world. Sarah Margaret Huff's bright soaring timbre is combined with Emily Colombier's soulful earthy quality and met in the middle by Jessica Rotter's colorful blend of the two. Through rich three-part harmonies, JEMS weaves stories, sounds, and raw emotion with a shimmering fervor. Listeners of all kinds can't seem to resist the songwriting prowess and vocal alchemy of JEMS.