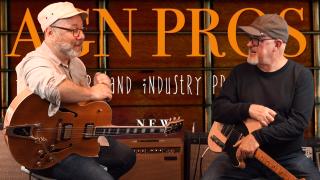 AGN Pros: Adam Levy & Tim Pierce
Tim Pierce talks to the amazing Adam Levy. Chalking up an enviable career to luck is characteristic of the soft-spoken Levy, whose humility is echoed in his musical voice. Adam is tactful and tasteful in his guitar playing, never stepping into a solo spotlight without something meaningful to add to a song. One great example is his guitar work on the Norah Jones hit "Come Away with Me." Understated but memorable, Levy's solo draws on elements of jazz and country to reflect perfectly the simple, earnest sentiment of the composition. Making music with Norah Jones was just one experience in a string of elite gigs for Levy. A few years prior he had met Tracy Chapman, who enlisted him to play on her mid-'90s masterpiece, New Beginning. Levy's guitar earns the limelight in the bluesy "Give Me One Reason," which won Best Rock Song at the 1997 Grammy Awards. More recently, he has worked with Ani DiFranco, Rosanne Cash, Jamestown Revival, and Allen Toussaint.
Beyond continuing his recording career as a sideman for celebrated artists, Levy has risen as a songwriter in his own right. His compositions have been recorded by Norah Jones, Glen Phillips (Toad the Wet Sprocket), Miles Zuniga (Fastball), and Amber Rubarth (rising indie artist). The full force of Adam Levy's songwriting is in play on his six solo recordings, the latest being 2016's lyrically driven Blueberry Blonde.