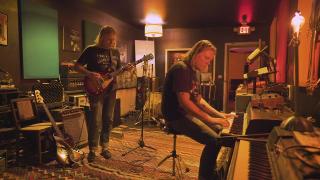 Ty Segall Frog Meets Fly Moogerfooger Effects Plug-ins
These plug-ins — compatible with both Mac and PC — work with all the major DAWs, vastly expanding the possible production canvas of music creators, producers, musicians and synthesists alike. The sound is legendary and instantly recognizable, with the original pedal collection having been used by the likes of both famous and experimental artists from Lou Reed to Thom Yorke, Kim Gordon, Daft Punk, Thundercat, and many more.
​With stereo functionality, an extended feature set, automation capability and the ability to save and manage presets, Moogerfooger plug-ins are perfect for the modern digital creator, building on the classic analog iterations. ​ While the original Moogerfooger pedals have long since been retired and are now collectors items, the Moogerfooger plug-ins impart the same analog soul for a fraction of the price. Please see below - it is a fabulous story and we have great images and a fabulous user example with Ty Segall, who has created an entire new song using Moogerfooger alongside several other instruments.