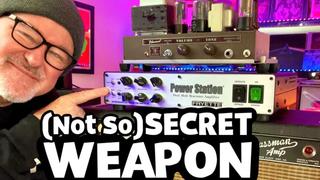 Tube Amps Have a BIG Problem. This Device SOLVES It.
"Your favorite amplifier usually sounds best when it is opened up,
but these days that means it's usually too loud for using at home and even on stage.
Amp attenuators are great but they rarely sound as good as they claim.
A friend of mine has made what I think is the best amp attenuator of all time. The Fryette PS-100 Power Station miraculously re-creates the sound of your amp at its loud sweet spot... at any volume, including whisper quiet.
I never take fees, I'm getting no compensation for this video, I just think it's a great leap forward, and everybody should know about it."
Tim P.