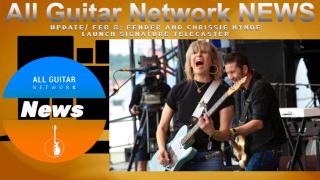 Update: Feb 8, 2021: FENDER and CHRISSIE HYNDE LAUNCH SIGNATURE TELECASTER
News out of HOLLYWOOD, Calif. that Fender have released the Chrissie Hynde Telecaster® in its first ever collaboration with the singer-songwriter, Pretenders front-woman and guitar icon. The Signature model is a tribute to the Ice Blue Metallic Telecaster that Chrissie bought in a New York City shop nearly forty years ago and has been featured on over a dozen studio albums and has accompanied Hynde in concert halls and stadiums all around the globe. said Chrissie Hynde, "My guitar tech, David Crubly, convinced me to launch a Fender Signature Telecaster by telling me it might encourage more people to get into bands and music. I hope that's true and know that those who do, won't look back." Chrissie has played a number of Teles over the years, but her original model remains her number one, most trusted guitar to this day. This all-new Signature Telecaster® is a faithful recreation of one of the world's most famous electric guitars, recognized for its churning Tele rhythms and the rugged sound it lent to the Pretenders and Hynde's other projects. It boasts an alder body in Faded Ice Blue Metallic Road Worn™ lacquer finish, vintage-style '50s single-coil Tele pickups voiced to match Chrissie's original set and a 6-stainless steel barrel saddle bridge. With a custom mid-'60s "C"-shaped maple neck, a 7.25" radius fingerboard and a chrome mirror pickguard, the guitar serves the unmistakable look and feel of Hynde's treasured '65 Telecaster® model. An artist-requested player-friendly update on the new Chrissie Hynde Telecaster® are locking tuners for increased tuning stability and quicker string changing. said Justin Norvell, EVP Fender Products. "It was a true honor to bring the Chrissie Hynde Telecaster to life. This guitar is as legendary as the artist who inspired its namesake and personalized design features. Chrissie really wanted this model to be as faithful as possible to its original. – this Telecaster® is packed full of features that punch. From its beautiful Road Worn™ finish to its resilient stainless-steel saddles, the musical possibilities really are endless with this Tele in your hands." Born in Akron, Ohio, Chrissie Hynde's long and influential career as an artist and singer-songwriter started shortly after moving to London in 1973. Hynde began writing for NME and associating with the stars of the then-nascent Punk scene, such as Johnny Rotten, Sid Vicious, and Vivienne Westwood. After playing in several bands, she formed The Pretenders in 1978, releasing such classics as the UK #1 "Brass in Pocket," "Talk of the Town," "Message of Love," and "I'll Stand By You" to commercial and critical acclaim throughout the `70s, `80s and `90s. Uncompromising in her D.I.Y. attitude and persistent work ethic, Chrissie's career has spanned multiple world tours, number 1charting singles, a performance at the original Live Aid, and legendary collaborations with everyone from Frank Sinatra to Nick Cave. She released her 11th Pretenders studio album, Hate for Sale, in July of 2020. 
The Fender Artist Signature Series honors iconic musicians through product progression and storytelling, creating instruments inspired by the unique specifications of the world's greatest guitarists and bassists. Fender discusses the all-new Chrissie Hynde Telecaster® specs and all details in an episode of Fender's serialized social video series: Fender Demos. Fender Demos  focuses on showcasing not only the key features and benefits, but also the sonic quality of Fender's instruments, amplifiers and pedals. In addition to product demos, the series also provides beginner, intermediate and advanced tone tips, set-up and maintenance guides and insights to getting the most out of your Fender gear. For more...click the INFO button.