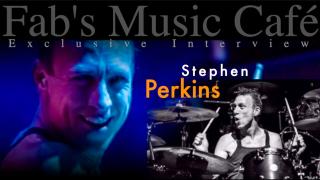 Fab's Music Café: Stephen Perkins
His role of founding member for the mega star outfit "Jane's Addiction", and beat master for other legendary bands like Infectious Grooves, Porno for Pyros, Nine Inch Nails and many more, might have given him general public stardom, but
Stephen Perkins, when it comes down to drumming, is considered one of the most creatives ones out there, and with a merit ! Raised on Rock and Metal in his pre Jane's Addiction years, he learned how to listen and to open his intake of music influences with a 360 angle.
Master tribal that he is, he can switch from a super tight funk to a Mozambico , while adding his own signature colors, and percussive sounds too.. He is one of those people who light up the room when they enter it, and so is his drumming and stage performance, no matter what "alternative" du jour tonight's gig might call for.
Stephen Perkins has been working on a series of brand new grooves in combination with percussions and other unconventional percussion, he is about to launch his own label, and keeps himself busy with recording sessions and live performances of all kinds.