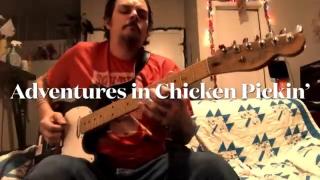 "Hot Wired"By Brent Brent Mason.
Who Is John Lere?
John W. Lere Jr. was born with a guitar in his hands. Not really, but it's a romantic thought and seems very fitting if you're familiar with him. Whether banging on different toys with a pencil or plucking around on various beginner guitars as a child, John Lere has been making music his entire life. He began traditional study on the guitar at the age of 9, taking weekly lessons from Art Gomez at Vesley Music in Las Vegas, NV, learning the fundamentals and written language of music. John started giving his own lessons to neighborhood kids or friends at school and loved everything about the guitar. As a freshman in High School he joined the Stage Band and was introduced to jazz music. The piece of music given to him to play for his audition was 'Birdland' by Weather Report. All of the sudden an obsession with this different type of music took over and John went on to play in many different High School Jazz Ensembles around Las Vegas, constantly learning and improving.
He was accepted to the Las Vegas Academy of International Studies and Performing Arts after his sophomore year and the study of jazz music went into overdrive! This new learning environment was a dream come true to any kid that wanted to play, practice and study music all day and that is exactly what John did. LVA Jazz band director Alan Lawson, introduced John to legendary & local guitar instructor Hap Smith(RIP Hap. You will be forever missed) and was taught a deeper lesson in discipline and music theory. John continued regular study With Hap Smith during his junior and senior years, and began teaching part time(mostly to kids and beginners) at local music shop Pat's Desert Music. With College just around the corner, John set his sights on a school on the other side of the country. Being Alumni of Berkeley School of Music in Boston, Hap helped John prepare an audition piece and gave a very gracious letter of recommendation. After much consideration however, the decision was made to stay in Las Vegas For College and he accepted a scholarship from The University Of Nevada Las Vegas. Over the next few years John studied with jazz great Joe Lano, focusing on chord inversions, chord solos, different picking techniques and smoking cigarettes.
John Played in many different bands, many different styles and genres, toured around the country many times, teaching along the way where ever possible. He has worked for Carnival Cruise Lines and traveled to Mexico and Canada, but never really feeling satisfied with what he was doing. That would soon change! Even though John had listened to and been a big fan of country music throughout his whole life, when he heard the music of The Hellecasters he became totally intrigued by the many different sounds, that in the right hands, the Telecaster could produce, and so began the journey towards Tele-mastery. All of the sudden that fire and enjoyment of playing the guitar was back! A desire to teach was also resurrected and a feeling of responsibility to give back to anybody aspiring to learn the guitar.
John Lere has dedicated his life to music and of all the many different instruments in the world, the one that chose him was the Guitar. He has acquired an extremely large amount of knowledge and skill and he continues to strive for new things on the guitar as well as in Life. Fortunately, it is all available for purchase for a great low price! LOL
Welcome to Adventures in Chicken Pickin'
Guitar Players, aspiring Chicken Pickers, professional musicians and everyone else who love things guitar related, this is the place for you! Be part of an online community of guitar players, teachers, collectors, luthiers, and other enthusiasts. If you're interested in learning how to play guitar or want to improve upon what you already know, Sign up for the Academy of Chicken Pickin' and we will plan out a structured course of study that's designed solely for you with the aim at getting you to the level of playing you wish to be. Or just hang out and chat with others about your favorite players and bands. Stay tuned for more adventures and cool stuff to be added very soon. Thank you!
                             John Lere