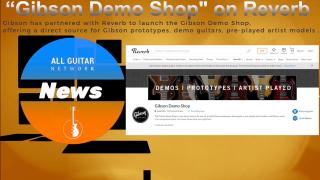 UPDATE: Wednesday Nov 25, 2020: Gibson partners with Reverb to launch the Gibson Demo Shop, offering a direct source for Gibson prototypes, demo guitars, pre-played artist models . .mp4
NASHVILLE, TN: Gibson the iconic American instrument brand has partnered with Reverb--the largest online marketplace dedicated to buying and selling new and used musical instruments--to launch the Gibson Demo Shop. The Gibson Demo Shop on Reverb offers a direct source for one-of-a-kind Gibson prototypes, demo guitars, pre-played artist models and Gibson mods, at an exceptional value.
The Gibson Demo Shop is live on Reverb now with an exclusive run of 40 guitars, Here.
Featuring one-of-a-kind guitars, the Gibson Demo Shop brings unique guitars to the online marketplace for fans. All Gibson Demo Shop guitars are certified through the Gibson Repair and Restoration team's 35-point inspection process and will receive a certificate of verification. Additionally, all Gibson Demo Shop guitars will be covered by a two-year warranty centered on playability. Fans can check back every week for updates and "follow" the Gibson Demo Shop on Reverb to get instant notifications on the next run of guitars:
"We are excited to launch the Gibson Demo Shop in partnership on Reverb, as they're the established online marketplace for guitars and beyond," says Cesar Gueikian of Gibson. "We are making unique prototypes, demo and modified guitars, and over time guitars played by our artists that fans love will be available on the Gibson Demo Shop."
"Gibson is giving players an incredible opportunity to own some truly unique guitars--many that weren't previously available for purchase--and I couldn't be more excited that Reverb's global community of music makers will have access to this gear," adds Jim Tuerk of Reverb.
After more than a century, Gibson artists, players and fans continue to experience the #1 guitar brand rejuvenated. Gibson is played by the best and brightest artists, across generations and genres and has emerged as the most relevant, most played, and most loved guitar brand around the world. About Gibson: Gibson, the world's most iconic guitar brand, has shaped the sounds of generations of musicians and music lovers across genres for more than 100 years. Founded in 1894 and headquartered in Nashville, TN, with a premiere acoustic facility in Bozeman, MT, Gibson Brands has a legacy of world-class craftsmanship, legendary music partnerships, and progressive product evolution that is unrivaled among musical instrument companies. The Gibson Brands portfolio includes Gibson, the number one guitar brand, as well as many of the most beloved and recognizable music brands, including Epiphone, Kramer, Steinberger, and the Gibson Pro Audio Division, KRK Systems. Gibson Brands is dedicated to quality, innovation, and sound excellence so that music lovers for generations to come will continue to experience music shaped by Gibson Brands
About Reverb: Reverb is the largest online marketplace dedicated to buying and selling new, used, and vintage musical instruments. Since launching in 2013, Reverb has grown into a vibrant community of buyers and sellers all over the world. By focusing on inspiring content, price transparency, musician-focused, eCommerce tools, a music-savvy customer service team, and more, Reverb has created an online destination where the global music community can connect over the perfect piece of music gear. A portion of each sale on Reverb goes to Reverb Gives, which provides youth music programs all over the world with the instruments they need to make music. Reverb is a wholly-owned subsidiary of Etsy (NASDAQ: ETSY.) Click the INFO button for more.