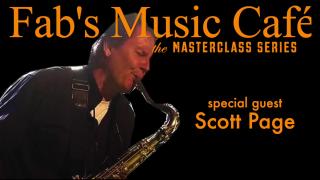 Fab's Music Café | Scott Page, Masterclass
Join Scott Page, saxophone/guitarist for the iconic bands Pink Floyd, Supertramp, and Toto, is also a technologist and business guru, currently mastermind of Think:EXP on the journey that strives to revolutionize the entertainment industry by bridging the gap between the human spirit and technological innovation. He is also an adjunct professor at the University of Southern California's Thornton School of Music. He is currently CEO of Think:EXP, a Los Angeles-based media company focused on live immersive entertainment. Scott has worked on and led a number of ventures, including Walt Tucker Productions, an audio video post production company that produced projects for The Rolling Stones, Bon Jovi, Janet Jackson, Garth Brooks, Scorpions and others. He co-founded 7th Level, Inc., a CD-ROM game and educational software company where he co-produced Tuneland, an interactive musical cartoon (starring Howie Mandel and featuring David Gilmour), the Monty Python interactive series, and was integral to the development of QD7, an interactive multimedia joint venture with Quincy Jones and David Salzman that resulted from Jones' partnering with the company. Page co-founded New Media Broadcasting Company, a social media and collaborative communications enterprise and co-founded and served as CEO of Direct2Care, an online healthcare presence management company. Before his most recent venture with Think:EXP, Scott had co-founded GetYourOPI, an online presence management company and served as CEO of Ignited Network, "a start up music accelerator based in Los Angeles."
As an artist, his continued work as a recording and as a session musician continues to draw interest from Pink Floyd fans and other music fans alike.