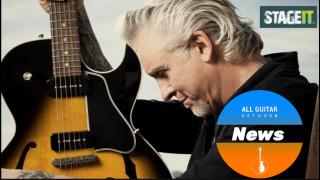 AGN News: StageIt Event with Guitarist Neil Giraldo this Saturday 20th June at 4pm PST. (Supporting The Alzheimer's Association )
Guitarist Neil Giraldo will be playing a benefit concert on Stageit for The Alzheimer's Association, this Saturday 20th June at 4pm PDT. Neil is a prolific guitarist, producer, arranger, and film composer with over four decades experience. A songwriter with a back catalog of more than 100 songs and more than 45 million records sold, and he's worked with some of the greatest artists in the music industry, including Pat Benatar, Rick Derringer, John Waite, Kenny Loggins, Steve Forbert, The Del Lords, and Beth Hart. His work has produced many Grammy-nominated and Grammy-winning hits, and he holds the distinction of being the first guitar player ever to appear on MTV. Today, Neil continues to expand his creative portfolio. In addition to writing new songs for stage and screen, he is developing screenplays for feature films, touring, and giving back to the community working with musicians young and old.
For more information on stage it and to get tickets for the Neil Giraldo benefit concert click the info button now.