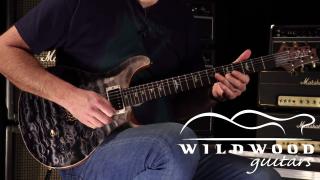 Wildwood Guitars • PRS Guitars Wildwood 35th Anniversary Wood Library Custom 24 Fatback • SN 190291805
The last time we flew up to Maryland to visit our friends at PRS, they blew our minds with an incredible anniversary gift. To celebrate Wildwood's thirty-fifth year of existence, they offered to build us a run of Custom 24 Fatbacks in two of our favorite nitrocellulose lacquer Private Stock finishes, Northern Lights and Frost Bite. This is rather unprecedented in the history of the Wood Library, and we are overcome with gratitude towards the fine folks at PRS for giving us such a special present.
Of course, we couldn't just stop at the finish--we had to pick out some stunning tonewoods, too! Again, PRS rolled out the red carpet for us, and we picked some of the finest East coast maple and Brazilian rosewood for the tops and fingerboards. Of course, beautiful wood is exciting, but the finish on top of it might be even cooler. These Custom 24s all come equipped with a vintage-style nitrocellulose lacquer finish that allows these exceptional tonewoods to breathe and resonate like a vintage guitar from the fifties.
Our friends at PRS have also tweaked the pickups to amplify the spectacular voices of these instruments. These new pickups, called 58/15LT+ humbuckers, replace the old 58/15LTs and refine their sonic formula even further through the magic of TCI tuning. They blend the richness and the full harmonic response we expect from PRS with a healthy dash of vintage character, and the resulting mix is quite inspiring.
We're proud to present one of the coolest anniversary gifts ever, the Wildwood Guitars 35th Anniversary Wood Library Custom 24 Fatback. The only downside is that we're left wondering how we're going to top these guitars for our subsequent anniversaries down the road. Well, we'll cross the bridge when we get to it. For now, we hope these Custom 24s inspire you as much as they inspire us!