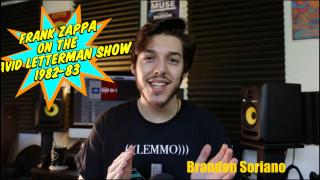 AGN Youtube Picks: Zappa on Letterman, 1982-83
AGN Youtube Picks: Zappa on Letterman. Frank appeared on Late Night four times.
August 10, 1982 (taped the day before): With his daughter Moon Unit, Frank promotes his current LP, "Ship Arriving Too Late to Save a Drowning Witch," which includes Moon's hit, "Valley Girl."

June 15, 1983: Frank participates in a segment previewing the following night's schedule (previously uploaded here: https://www.youtube.com/watch?v=FPq9J...).

June 16, 1983: Frank promotes his new offering, "London Symphony Orchestra, Vol. 1."

October 31, 1983: Frank is now raising money for a Broadway musical that never materialized but ended up a year later as an triple- LP called "Thing-Fish." Despite an offer to guest again, this was Frank's last appearance on the show.