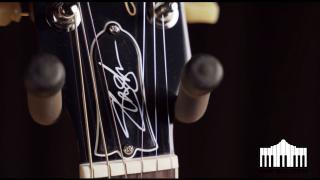 Gibson Slash Signature Les Paul Standard | Just Add Top Hat | Alamo Music Center
Gibson has released the Slash Les Paul Standard collection, faithfully creating an amalgamation of the style and flare that the guitarist has brought to the Les Paul legacy over his successful career. Here, Chris Mckee and Cooper Greenberg talk about the first of the collection that we've received at Alamo Music, the "November Burst." While this guitar is a no brainer for Slash enthusiasts, we also find that when you really boil down the elements the instrument brings to the table: it's also kind of a no brainer for anyone who loves rockin' Les Pauls. With a beautiful finish over the AAA Flame Maple top, a couple heavy duty custom Burstbucker pickups, and a surprisingly articulate c-shape neck profile, this guitar (complete both a "Slash" truss rod cover as well as a replacement blank truss rod cover) can easily become a personal signature for anyone looking to play a high quality electric guitar.
The demo is performed direct into a Fender Hot Rod Deluxe, overdrive tones come from the amp's built in gain channel.