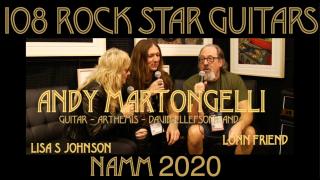 108 ROCK STAR GUITARS AT NAMM 2020: Andy Martongelli
Guitarist, songwriter, guitar teacher and producer, Andy (Andrea Martongelli) belongs to the Hard Rock / Heavy Metal world since 1999, when the Metal band ARTHEMIS starts its career.
His creative process and technical approach on Guitar keeps changing and evolving through the years making his style, guitar riffs and solos, a real trademark for many fans around the world.
From 1999 to nowadays Andy recorded with his band ARTHEMIS and other side-projects (Power Quest, Killer Klown, The Snake...), several amazing Metal albums, constantly touring and performing (with Arthemis and as solo artist) at some of the greatest World Rock-Metal events, establishing himself as a Rock-Metal guitarist but also as an eclectic musician and great songwriter.
June 2010 issue of Metal Hammer UK: ARTHEMIS featuredon Metal Hammer magazine UK to cover the Judas Priest song "United" in the magazine tribute CD for the World Metal Hammer UK 30th Anniversary JUDAS PRIEST Tribute album "British Steel" release, together with Firewind, Disturbed, Five Finger Death Punch and many more...
November 2010: ARTHEMIS interviewed on Metal Hammer UK and on the Official Metal Hammer Web Site recording the exclusive EP album (F)ARTHEMIS - "POP UP YOUR ASS Vol. 1", covering 6 songs from famous pop stars turned into evil-Heavy Metal songs (Rihanna, Madonna, Lady Gaga, Micheal Jackson, Destiny's Child, Britney Spears), available for free download at www.arthemisweb.com/downloads
November 2013: Andy performs a killer guitar solo on the Michael Angelo Batio solo album titled "Intermezzo". The song is titled "8 Pillars Of Steel" (featuring Jeff Loomis, MAB, Rusty Cooley, George Lynch, Elliott Dean Rubinson, Craig Goldy and Dave Reffet)
So far, with ARTHEMIS and as solo artist, Andy toured Europe many times as well as United Kingdom, Japan and U.S.A. as opening act for bands like Megadeth, Airbourne, Saxon, Dragonforce, Helloween, Adrenaline Mob, Manowar, Cradle Of Filth, Gus G (Ozzy Osbourne / Firewind), George Lynch (Lynch Mob), Within Temptation, Freedom Call, Reb Beach (Whitesnake), Micheal Angelo Batio, Kiko Loureiro (Megadeth, Angra), Glenn Hughes and many others; Arthemis performed at some of the biggest world events as Hellfest (France) Download Festival (Donington-UK), Wacken Open Air, Bloodstock Open Air UK, Hammerfest, Hard Rock Hell UK, Hammerfest UK, Gods Of Metal, Hard Rock Hell Ibiza, Japan Headlining Tour, European tour, Metal-Camp, Namm Metal Jam @ Whisky A Go-Go (U.S.A.) (…& many other european tours and festivals).
During his career as solo artist Andy shares the stage with several iconic Rock guitar players touring as opening act or jamming with musicians like Steve Vai, Marty Friedman, Guthrie Govan, Paul Gilbert, Kiko Loureiro (Megadeth / Angra) , Andy Timmons, Frank Gambale, Michael Angelo Batio, Gus G (Ozzy Osbourne) , Reb Beach (Whitesnake, Winger) , George Lynch, Vinnie Moore …& many more) showing incredible stage presence, creativity and showmanship.
Andy has released instructional Guitar DVDs & books ( Music-off Heavy Guitar Lessons, The Metal Injection, Suonare nello stile di Yngwie J. Malmsteen, 50 Heavy Metal Monster-Licks), as partner with many guitar magazines, recording studios (as session-guitar player, producer for Rock and Metal bands), music schools (Andy is the head of the Rock-Metal Guitar Department of "MMI Modern Music Institute" with over 50 schools in Italy). Andy is also a Guitar tutor and does guitar masterclasses and workshops around the world on a regular basis (Namm Show USA, Frankfurt Musik Messe, Musicians Institute "MI Japan", London Guitar Show, Second Hand Guitar, Music Italy Show…) and is a very productive musician, always hungry for new musical challenges day by day, carrying on his mission with new tours and creating songs that inspire thousands fans. New tour dates will be announced soon!