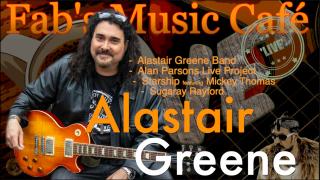 Fab's Music Café, 'Live': Alastair Greene
Guitarist, singer, and songwriter Alastair Greene has been a mainstay of the Southern California music scene for close to 3 decades. Alastair was born April 18th, 1971 in Santa Barbara, CA. He discovered music through his mother's piano playing at home and whose record collection included classics by The Beatles, Stevie Wonder, and Elton John, while his father's tastes at the time leaned toward Bach and Beethoven.
Alastair was inspired to pursue music as a career by his grandfather, the late Chico Alvarez, who played trumpet as a member of the Stan Kenton Band in the '40s and '50s. Growing up, Alastair took piano lessons and played the saxophone before discovering the guitar in high school.
Originally interested in hard rock bands and guitar players, he was exposed to blues and roots music through some records loaned to him by a friend of his father. Those records included: B.B. King 'Live at the Regal', Buddy Guy 'A Man and the Blues', Johnny Winter 'Second Winter', The Allman Brother Band 'Live at Fillmore East' and Stevie Ray Vaughan & Double Trouble 'Couldn't Stand the Weather'. After High School Alastair received a scholarship to attend the Berklee College of Music in Boston, where he studied for two years before returning to southern California to begin playing with blues and rock bands in the early '90s.
Alastair formed the Alastair Greene Band in 1997 and celebrated the 20 anniversary with a live concert recording in early 2018.
Alastair has released 8 solo albums (including 2 live records and a compilation record) the most recent of which is LIVE FROM THE 805 (released in 2018). LIVE FROM THE 805 was nominated for Rock Blues Album of the Year by Blues Blast Magazine in addition to being included on many 'Best Of 2018" year-end lists by multiple publications.
His most recent studio album DREAM TRAIN (2017) features guest appearances by Walter Trout, Debbie Davies, Mike Finnigan, Mike Zito and Dennis Gruenling. DREAM TRAIN was given 4 stars by Down Beat Magazine and was included as one of their 'Best Albums of the Year'.
Alastair was lead guitarist and co-lead vocalist of the Alan Parsons Live Project from 2010 - 2017 with whom he literally toured the world. Greene has also toured with Starship featuring Mickey Thomas, Blues legends Debbie Davies, Mitch Kashmar, and most recently as a member of powerhouse vocalist and Blues Music Award winner Sugaray Rayford's band from 2018 - 2019.
In 2019 Alastair signed with Tab Benoit's Whiskey Bayou Records and will have a new CD released in the summer of 2020 produced by Benoit titled THE NEW WORLD BLUES.