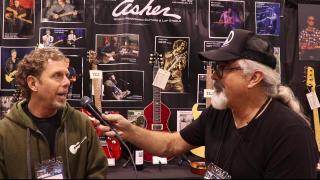 NAMM 2020 Interviews: Bill Asher from Asher Guitars
Asher Guitars & Lap Steels is a Los Angeles boutique guitar company that is dedicated to handcrafting stellar quality instruments and providing superior guitar accessories that can be appreciated by musicians of all types. In 2017 Bill celebrated 35 years working on guitars!
Bill Asher, the founder and luthier behind Asher Guitars and Lap Steels, is considered a master guitar craftsman by legendary musicians. With loyal clientele such as Jackson Browne, Ben Harper, Fleetwood Mac, Paul Simon, and the Dixie Chicks, Asher's decades of experience working on thousands of guitars has made him one of the most sought-after luthiers in the country.
The inception of Asher Guitars started in 1982 and has steadily manifested into a world-renowned boutique guitar company dedicated to crafting fine instruments and providing superior service with attention to personal connection.
Asher Guitars sells direct to the customer, as well as carries select dealers in the United States and abroad. Aside from its offerings of handcrafted instruments, Asher also supplies one import model (the Electro Hawaiian Junior lap steel guitar) as well as various Asher branded pickups, strings, straps and accessories. All of the Asher products maintain the same high level of quality that discerning customers appreciate.
Asher Guitars is a small, family-run company, which enables it to provide a comfortable, person-based buying experience due to its selection of quality products and customer service. Asher, along with his brother Robert, also perform extensive restorations on vintage instruments and regularly maintain guitar collections for a handful of loyal clients.