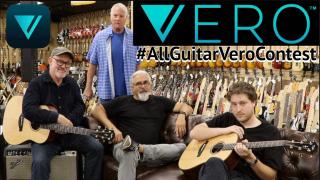 The VERO Great Guitar Contest: enter now to win a beautiful Taylor 717 'Grand Pacific'
All Guitar Network has teamed up with Taylor guitars and free social media app Vero and together we're running a competition called the Vero Great Guitar Contest and starting June 17, running through July 17 and you could win this beautiful Taylor 717. Just download the Vero app, create a profile and upload a clip of you playing.
Just a few things to remember 1. It has to be live..that is, no backing tracks (although, you can use a friend). 2. It has to be original. 3: it must be under 60 seconds. And 4. you have to hashtag it with #AllGuitarVeroContest.
The judges are Tim Godwin from Taylor Guitars, Tim Pierce and Michael Lemmo and each week they'll be discussing some of their favorite entries right here on All Guitar Network.