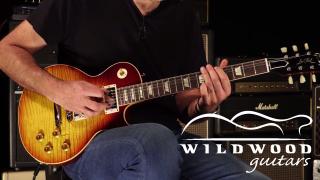 Wildwood Guitars • Gibson Custom Shop Lee Roy Parnell 1959 Les Paul Standard • SN: LRP9031
Lee Roy's signature model is a sight to behold. It features a custom finish dubbed "Abilene Burst" (an homage to his hometown), and it highlights the beautiful grain on the figured maple top. Two underwound '57 classic pickups produce sweet vintage PAF sounds that will inspire you to play for hours and hours. Speaking of sweet sounds, Lee Roy asked Gibson Custom to do something a little different for his signature model: would they put a bit of extra wood in the pickup cavities to give it a bit of extra vintage-style woodiness? They said yes, and it paid incredible dividends. Because of the extra wood, the pickups capture more of the guitar's acoustic character, the guitar feels more responsive, and it has glorious woody midrange that will take you back in time to 1959.
The Lee Roy Parnell 1959 Les Paul doesn't skimp on the ergonomic side of things, either. It has a contoured cutaway to allow for maximum access to the upper frets and beyond, which is a godsend for slide players. As fun as it is to take slide solos up past the 22nd fret, you won't want to because the neck is so comfortable. It's a custom '59 profile that Leroy worked with the Custom Shop to create, and it has a lovely chunky feel that makes you want to cancel all your appointments for the day and adventure across the fretboard.
We're proud to showcase such an inspiring signature model from our friends at Gibson Custom. We invite you to take one for a spin and experience the sound of Abilene. Once you do, we're sure the Lee Roy Parnell 1959 Les Paul Standard will help you make joyous noise for a long time.