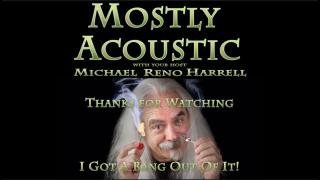 Mostly Acoustic: Episode 2: Tommy Edwards
Siler City native Tommy Edwards was raised in a musical family. His mom was a piano player and his father played harmonica and ukulele and sang in choirs and quartets. Even though he is "as old as bluegrass"--having been born in 1945, the year that Earl Scruggs joined Bill Monroe's Blue Grass Boys--Edwards listened to rock and roll and R&B as a child, and doesn't remember listening to much country music in his home. But the folk revival hit just as he was a teenager, and he followed the sounds of the banjo from the Kingston Trio to Earl Scruggs and finally discovered Bill Monroe, a life-changing experience that also had important implications for Piedmont music history.
He pulled a 1930s Gibson banjo out of his neighbor's trashcan, cleaned it up, and began emulating the styles of his heroes. He focused on banjo while he was in college at East Carolina University, but when he came home to Siler City he found that the only bluegrass band in town already had a banjo player, so he switched to guitar. He credits his neighbors, brothers Paul and Donald Beane, with helping him find his voice in bluegrass, and he joined their band, "Tom and Jerry and The Beane Blossoms" (which also included mandolin player Jerry Stuart) in the late 1960s. He preferred traditional approaches to bluegrass and developed a unique flat-picking guitar style that he perfected by adapting Bill Monroe's mandolin leads, and absorbed the techniques of seasoned players like Doc Watson, Arthur Smith, and Don Reno. He was soon good enough to enter competitions at fiddler's conventions, where he made friends with fellow North Carolina pickers like Jack Lawrence, Gen Meade, Michael Auman, Ray Cline, Wes Golding, and Jimmy Haley, as well as the teenaged Tony Rice. He began to garner accolades and twice took home the top prize for "World Championship Bluegrass Guitar" at the storied Union Grove Old Time Fiddlers & Bluegrass Festival.
Edwards formed the The Bluegrass Experience in 1971 with the Beane brothers and friends Snuffy Smith, Charles Lee Conard, and "Fiddlin' Al" McCanless. The band joined fellow Chapel Hill musicians like Mike Cross and the Red Clay Ramblers to carve their own place in the local traditional music scene as accomplished players and singers, anchored by Edwards' original songs. For all the attention Edwards gets as a distinctive instrumentalist, he feels that he is at his best as a songwriter. "I love the creative part and I love to tell a story," he says. He finds that inspiration can arrive in a matter of moments or take years to hone, and that songwriting allows him to tap into a more cerebral process that can be very rewarding. "It differs from being an instrumentalist in that one has to find the words that tell the story and put them together in a cohesive (and often rhyming) manner in order to tell that story, to get a certain point across or to weave a particular spell."
Edwards ran an antiques store in Pittsboro with his wife Cindy for over 25 years; taught middle school, coached, and was an administrator in the Randolph and Chatham County Schools; and served in the North Carolina National Guard. Members of The Bluegrass Experience continue to play together and recently celebrated their 40th anniversary with a concert at the Fearrington Barn in Pittsboro. Edwards currently plays solo gigs and with his group Carolina Lightnin', which also features Alice Zincone and Rick Lafleur of The Grass Cats. He still plays the banjo on occasion and sometimes joins old friend Leroy Savage at his band's regular Wednesday night gig at the Q Shack in Durham. He also hosts a radio show on WLHC in Sanford and WOQC in Rocky Mount (103.1 FM or www.life1031.com) called "Bluegrass Saturday Night" that can be heard--you guessed it--every Saturday evening from 7:00 to 9:00 PM.