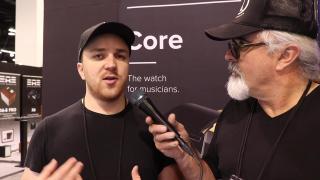 FLORIAN SIMMENDINGER , CEO, SOUNDBRENNER
At Soundbrenner we're looking to solve universal problems of musicians, by applying design, technology and human ingenuity. We combine hardware and software into integrated solutions that offer a beautiful user experience. Solutions that are not gadgets or toys, but music tools designed for all musicians who are serious about improving.
Our first product is the Soundbrenner Pulse, a smart vibrating metronome that allows you to literally feel the beat. It works hand in hand with our metronome mobile app, that is already loved by thousands of musicians around the world.
We firmly believe success is earned and not given, so we celebrate those musicians who are on the journey to musical greatness, and we inspire musicians to reach for it.
We're Soundbrenner and we bring technology, great design and inspiration to every musician on the planet, to help them master their craft.