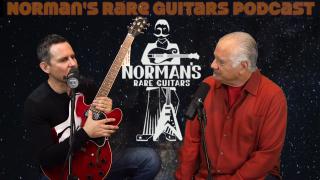 Episode 20 | Guy King
Welcome to episode 20! We're so excited to be recording these historical -- yet relevant -- episodes and are grateful for your continued support. If you haven't yet, please take a moment to rate, review and subscribe to our show.
Guy King is a blues guitar player coming all the way from Chicago, by way of Israel. As Norman says, it's further proof that the American Blues is an internationally adored medium for music. That said, he doesn't call himself a Blues/Jazz player, he calls himself a music player and loves music that's filled with soul. This episode is filled with music, more than many other episodes and is sure to keep your ears warm on these cold, wintery days. Enjoy Norman and Guy King in a way you've never heard either of them before.
WHAT WE'RE PLAYING:
2003 ES335 Dot Neck Reissue "It's warm and buttery, right off the shelf"